Where does Brumbylon Music Come From
This week's feature: 5 – 6 Capo
The name is unfinished like the song…it had a meaning then. Basically, the guitar was only capoed on 5 of the 6 strings (a capo is a device that clamps down the strings to alter the key). It's even possible that it was in a different tuning, but we'd have to go back and relearn it to find out!
This piece is still in its raw form, and known to us only as 5-6 Capo. First it was composed, and then learned well enough to be recorded (strangely, just because we write it doesn't mean we can play it). But like many skeletons in the Brumbylon Cave it has yet to see the light of day. The arrangement of the song at this point in its life is more about the sections and how they flow into each other. Lyrics and melody, if they are ever created, may alter that arrangement. Some songs seem to come with a lyrical direction at the same time that the music is being written. Others, like 5-6 Capo, seem to arrive as just music – according to Lisa that means it's up for grabs! Many Brumbylon songs have grown out of instrumental pieces like 5-6 Capo. Girls in the Trees and Crazy were created in this manner. We like this snippet and think it may evolve into a song at some point. Snippets that don't become songs are sometimes deconstructed and used for parts!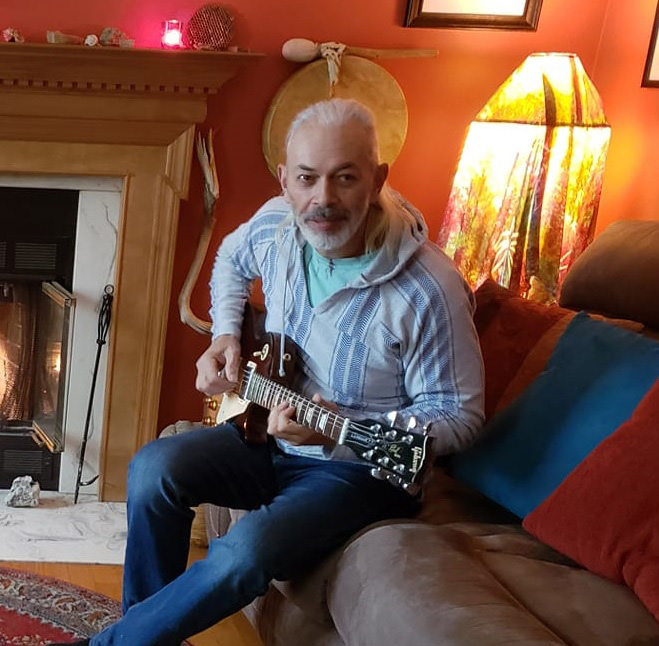 Enjoy our little gift to you from Brumbylon – we hope it finds you well and feeds your soul. Stay tuned for next week's feature when we invite you back INTO THE CAVE!